Information
In general, analyzers are devices that measure the amount and purity of a substance in a compound based on its chemical and physical properties.
If there is a required to continuous measuring for specific substance in the production process, the in-line analyzers, which continuously transmit online data to control rooms will use.
However, sometimes due to the high sensitivity and accuracy required or no need for continuous testing, first the material will be change to a measurable sample in the laboratory during the preparation process and then will check by offline analyzers.
In this section, we will introduce some widely used analyzers and related tools and equipment:
Gas and Liquid Analyzers
Generally, Analyzers made for one or more specific target gases, and there is no comprehensive analyzer for covering all target gases. Therefore, gases with the same measurement principles and similar application are included in a device.
For example, the principles of measuring combustion emission gases are usually according to light absorption methods and it is possible to measure them in one device. Nevertheless, oxygen gas measure based on the use of zirconium or magnetic method and manufacturer's measure it in separate equipment.
All analyzers measure gas via two below methods, which the first one is generally more applicable for measuring of process and control gases:
§ Extractive: A small amount of fluid will directed to the Analyzer
§ In-Situ: The analyzer is mounted in- line and is in direct contact with all amounts of fluid.
Real-time gas analysis increases efficiency, safety, throughput, product quality and environmental compliances.
Gas analysis can use various technologies such as the following:
· Tunable diode laser spectrometers (TDLS)
· Process Gas Chromatography
· Oxygen Analyzer
· Gas Density / Hydrogen Purity Analyzer
· Non-Dispersive Infrared Gas Analyzers (NDIR)
· Gas Calorimeter
Furthermore, in different industries, liquid analyzers are used to environmental protection supervisory,
processing sector products quality control, optimization of the industrial unit output and safety as importantly.
A wide range of measurements for cases such as the acidity or alkalinity of a solution, electrical conductivity, and water dissolved oxygen, turbidity meter, sodium, etc. can be provided in the design of the liquid analyzer system.
These sensors with a variety of materials and measuring range can be used in processes such as water and wastewater treatment plants, chemical industries, petrochemical industries, wood and paper industries, pharmaceutical and health industries, etc.
The following are the most important liquid analyzers and the most common methods:
– PH and ORP Analyzers
– Conductivity Sensor
– Dissolved Oxygen Analyzers
– Turbidity Analyzers
– Chlorine analyzers, MLSS, liquid density, hygrometer and ….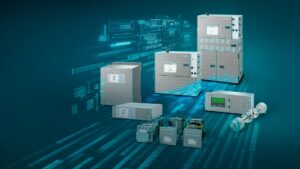 Process Gas Chromatography (PGC)
Chromatography is one of the most important methods of separation and identification of components of different compounds which have different types. There are two fixed and movable phases in Chromatography. Based on the type of movable phase, which also includes the same material under study, chromatography is divided into two general categories: liquid chromatography and gas chromatography.
In GC analysis or gas chromatography, the mobile gas phase, also called the carrier gas, is an inert gas such as helium, nitrogen, argon, and carbon dioxide.
The stationary phase is an adsorbent solid or a thin layer of a non-volatile liquid that is placed on the inner wall of a column or as a coating on the surface of glass or metal pellets.
The important parts of the gas chromatography process are as follows:
Carrier Gas
The carrier gas (GC) in gas chromatograph is usually a chemically inert gas such as helium and argon or an unreactive gas such as hydrogen, nitrogen, and carbon dioxide.
Sample Injector section
The injector is a device for preparing the sample for injection inside the column. To achieve optimal column efficiency, the sample must enter in steam phase into the column. Due to the ability to the temperature adjustment, it's possible to increase mentioned temperature above the evaporation temperature of the sample slightly.
In general, we have two types of columns in the GC analyzer:
1) Filled Column
2) Capillary Column
The filled column has been filled with tiny particles that are completely inert and are covered by the liquid phase and constitute the stationary phase.
Heating section and column temperature
The chromatography column optimum temperature is depends on the sample boiling point temperature.
In general, the column temperature is regulated in two ways: isothermal and programming.
GC device detector
There are many detectors that can be used in gas chromatography
Different detectors have different selectivity over different samples.
Selecting a detector without selectivity responds to all compounds except the carrier gas.
Types of detectors in gas chromatography
· FID (Flame Ionization Detector): the most common type of detector is gas chromatography to detect carbonaceous compounds.
· NPD (Nitrogen Phosphorous Detector): To detect nitrogen and phosphorus compounds.
· ECD (Electron Capture detector): For the analysis of halogenated compounds.
· Mass Spectrometer: To identify unknown samples.
· TCD (Thermal conductivity Detector): To detect all organic and inorganic compounds.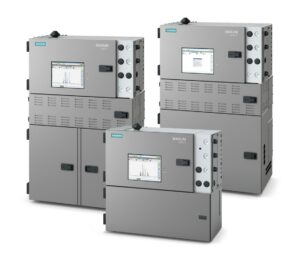 Physical Properties Analyzer
Reid vapor pressure (RVP) is a common measure of the volatility of gasoline and other petroleum products.
RVP is defined as the absolute pressure of steam applied by liquid vapor and its soluble gas at a temperature of 37.8 ° C.
Crude oil buyers sometimes determine the RVPs, especially if the crude oil be transported to the processing plant by the tanker or truck.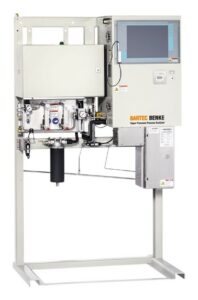 Continuous Emission Monitoring System (CEMS)
In all chemical processes, petrochemicals, refineries and power plants, condition monitoring and control of the process and the amount of emission gases from exhaust is not possible without chemical composition analysis systems.
Process control, product quality improvement, environmental protection and processes safety will achieve with analyzer systems.
Today, CEMS in industrial and factories comply with international standards TUV and MCERT is one of the environmental requirements.
The exhaust gas emission monitoring has been measured for a number of reasons, including compliance with legal requirements, safety considerations, process monitoring, and cost reduction.
Online monitoring systems proper use, moreover to meet legal requirements, will control products, increase efficiency, productivity and economization.
The systems mentioned above have ability to measure the following parameters online:
H2S – SO2 – O2- CO- CO2- NOX – THC (Total Hydro-Carbon) – Flow – Temperature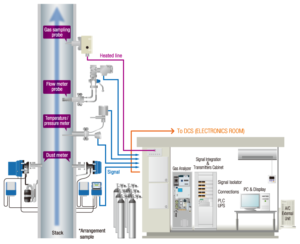 Steam Water Analysis System (SWAS)
Water is an integral and widely used component in the energy production process in steam and combined cycle power plants and utility units in various industries. Therefore, water quality control is significant in all parts of this process and it is very important to investigate water quality influence on maintaining performance and reducing downtime.
Studies show that around 60% of Trips in power plants are due to impurities in the water (Inaccurate sampling) or chemical analysis problems (Inaccurate measurement).
Further proper basic design in the sampling system of power plants, petrochemical industries and refineries, food and pharmaceutical industries, etc., the use of accurate water and steam analysis equipment is also very important.
Online water and wastewater quality control analysis in order to online measurement of parameters such as Chlorine, pH, Turbidity, Conductivity (EC) and etc. in water and BOD, COD, TSS, nitrate and etc. in wastewater is vital in many industries.
Types of Analysis:
v Water and steam cycle analysis in large conventional thermal power plants and boilers with water and steam sampling
v Water intake quality control (good performance of the demineralization unit) as well as preventing sediment and corrosion in boilers, leads to an increase in the life time of pipelines and pipes.
v Measuring the amount of oil spill of refineries, ships or offshore platforms into the se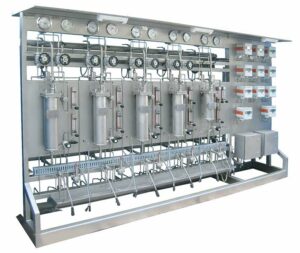 Analyzer Package
Online analyzers are installed at the closest location to the process and perform sampling and measurement.
These analyzers are placed in special chambers at the site of the process, known as the Analyzer House.
In this chamber, the ancillary facilities required by the analyzer, including suitable temperature and humidity conditions, explosion-proof chamber, pressure determination facilities, temperature and sampling amount, standard gas capsules and necessary facilities for analyzer calibration, circuits and
Electrical protections, interface signals with the control system, etc. are provided.
The analyzer package, which is generally designed for the use of gas analyzers including CO, CO2, NO and SO2, must include the following facilities and provisions:
• Explosion-proof housing; since the analyzer is installed on site and next to the facility, it must have explosion-proof conditions.
• Environmental conditions; providing environmental conditions such as optimal temperature and humidity I will through the package.
• Possibility of sampling; the pressure and temperature of the fluid entering the analyzer as well as the amount of inlet flow to it must be in accordance with the manufacturer's instructions.
Therefore, by installing a pressure and flow control valve, these requirements must be observed, and in order to prevent the entry of undesirable particles, a filter must be installed in the inlet path.
• Calibration facilities; Calibration of online analyzers is done by entering standard gases with a specific and precise composition. In order to connect these capsules and change the direction to them when calibration is needed, the necessary conditions must be provided.
• Electrical circuits and signals; The electrical circuits and protections related to the power supply of the analyzer as well as the signals received and sent to the central control system are provided inside the analyzer package.